Secondary Operations and Subassembly
Laser Cutting
Complete Forming
Paint
Plating
Anodize
Assemblies
Sub-Assembly Services
Materials Used
Cold Rolled Steel
Stainless Steel
Spring Steel
Aluminum
And many others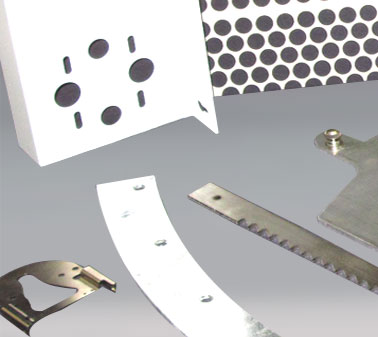 Medium Run Laser Cutting
Is the cost of a stamping die prohibitive to your project?
We would like to offer an alternative. Laser cutting the flat blank eliminates 90% of the die cost. Dynamics unique style of dedicated medium run form tooling in Wisconsin & Illinois is relatively inexpensive.
We will provide lifetime custom form dies for your job starting at $. Our custom form tooling allows for reduced tolerances, improved quality, and consistency
Request A Quote
Product Design
Our niche is tight tolerance metal parts holding +/- 0.005 in. on linear dimensions and ± 0.0015 in. on hole diameters.
Material thickness from .010" thru .250" for most material. Parts sizes from small to 48" X 120"
We can assist in the design stages of your project for opportunities to reduce cost thru efficient parts design. Cost reduction of existing product many times can be realized thru a simple part feature redesign.

P.O. Box 270 • Sussex, WI 53089 • 262-354-4800
Email: sales@dynamiclaserparts.com
© 2022 Dynamic Stampings, Inc. All rights reserved.
Web site designed and maintained by Design-2-Part Web Design.