Secondary Operations and Subassembly
Laser Cutting
Complete Forming
Paint
Plating
Anodize
Assemblies
Sub-Assembly Services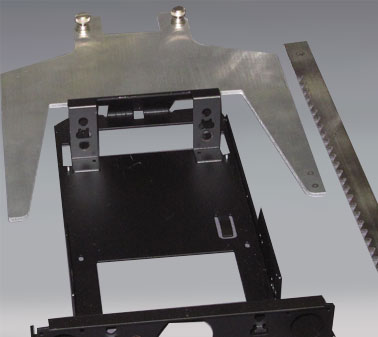 Product Design
We can assist in the design stages of your project for opportunities to reduce cost thru efficient parts design. Cost reduction of existing product many times can be realized thru a simple part feature redesign. Let our experience in Wisconsin & Illinois help you reduce cost.
Our niche is tight tolerance metal parts holding +/- 0.005 in. on linear dimensions and ± 0.0015 in. on hole diameters.
Material thickness from .010" thru .250" for most material. Parts sizes from small to 48" X 120"
Request A Quote
Short Run Laser Cutting
Is the cost of a stamping die prohibitive to your project?
We would like to offer an alternative. Laser cutting the flat blank eliminates 90% of the die cost. Dynamics unique style of dedicated short run form tooling in Wisconsin & Illinois is relatively inexpensive.
We will provide lifetime custom form dies for your job starting at $. Our custom form tooling allows for reduced tolerances, improved quality, and consistency.

P.O. Box 270 • Sussex, WI 53089 • 262-354-4800
Email: sales@dynamiclaserparts.com
© 2022 Dynamic Stampings, Inc. All rights reserved.
Web site designed and maintained by Design-2-Part Web Design.